I've made a decision: I need to go on a diet. A yarn diet, that is.   
While I was in Scotland for the Edinburgh Yarn Festival, I indulged myself quite a bit. One might even say I overindulged, considering that right before the festival I had already splurged on 21 skeins (525g) of light grey and ruby Rowan Cashmere Tweed intended for a Hintermost Cardigan. Despite the fact that this sumptuous yarn arrived mere hours before my flight, once I hit the UK, I purchased yarn like it was going out of style. I came home with another 2,930g of various yarns. That's 7.6 pounds of yarn total purchased just before and at the festival. That's a lot of poundage of any sort to return from vacation with.   
Upon arriving home from Scotland, I started feeling a teensy bit guilty about my embarrassment of riches. Let me be clear: I didn't have buyer's remorse in any way, shape, or form. But with over two months' worth of customer orders in my queue, it seemed a bit excessive even to me to have bought myself essentially three months' worth of personal projects.   
As we all know, dieting of any kind SUCKS. No one wants to do it. It feels like it should be easier than it is. You know how when you go on a (food) diet for a day, and at the end of your day of deprivation you feel as if you ought to have lost at least 5 pounds because you were so good FOR A WHOLE DAY? I mean, your body really should have rewarded you by automatically dropping the pounds because you denied yourself all of the deliciousness you desperately wanted to eat, right? (I tell you right here and now, if I am ever fortunate enough to become Queen of the Universe, this is how it will work under my reign.) Yarn dieting is pretty much the same thing. For me, at least.  If I finish a personal project, I'm somehow convinced that I've used up more yarn than I have, and that I need to immediately buy more to replace it.  And a little extra, just in case.
Much like with food diets, temptation crossed my path almost immediately after I proclaimed I was going on a yarn diet. In this case, temptation came in the form of the pattern for Arenda Holladay's Spring Shower Socks. These are thigh-high lace socks, made with Cascade Yarns Heritage Wave. Do I need them? No. Do I want them? HELL, YES. They're so cool! I can just picture myself, a snowstorm raging outside, snug in my thigh-high socks and my Snoopy pajamas (a fashion icon, I am not). I love them and want to make myself a pair before winter.    
Now, when I need to talk myself out of a knitting project, there's one sure-fire way to do it: I show it to my husband, who usually either rolls his eyes or looks at me like I'm nuts. But this time, he surprised me by saying they were pretty awesome (although he did wonder aloud as to just when I'd wear them. But he accepted without question my answer of their being the perfect snowstorm socks). He even opined on the colorway I should get (Nightshade). HOW AM I SUPPOSED TO RESIST WHEN HE AGREES WITH ME?   
Suffice it to say, I bought the yarn. It arrived the other day. Add another 200g to my total.   
But now, I'm trying to draw upon all of my willpower to refrain from buying any more yarn until I knit through a bunch of what I have. After all, one of my New Year's resolutions was to knit up or donate 50% of my non-inventory yarn stash. (By that, I mean all of my personal yarn, not the yarn I have purchased specifically for items in my online shop.) To my credit, I have actually given away some of my stash recently. I gave 4 skeins of Berroco Vintage to my son – at his request – so he can knit himself a sweater. During the fencing season, I met Anna (the teenaged sister of one of my son's teammates), who is an enthusiastic new(ish) knitter. I gave her 8 skeins of yarn out of my stash – 4 skeins of Valley Yarns Peru along with a pattern for a cowl that can be knit from those skeins, a skein of  Valley Yarns Charlemont and a skein of Cascade Yarns Heritage Silk (these two skeins together would make an amazing shawl), a skein of Cascade Yarns Roslyn (which would make a lovely hat), and a skein of eyelash yarn I got in my WEBS swag bag last fall. Anna's excitement at receiving these yarns has me thinking she may well receive more as I pare down my oversized stash.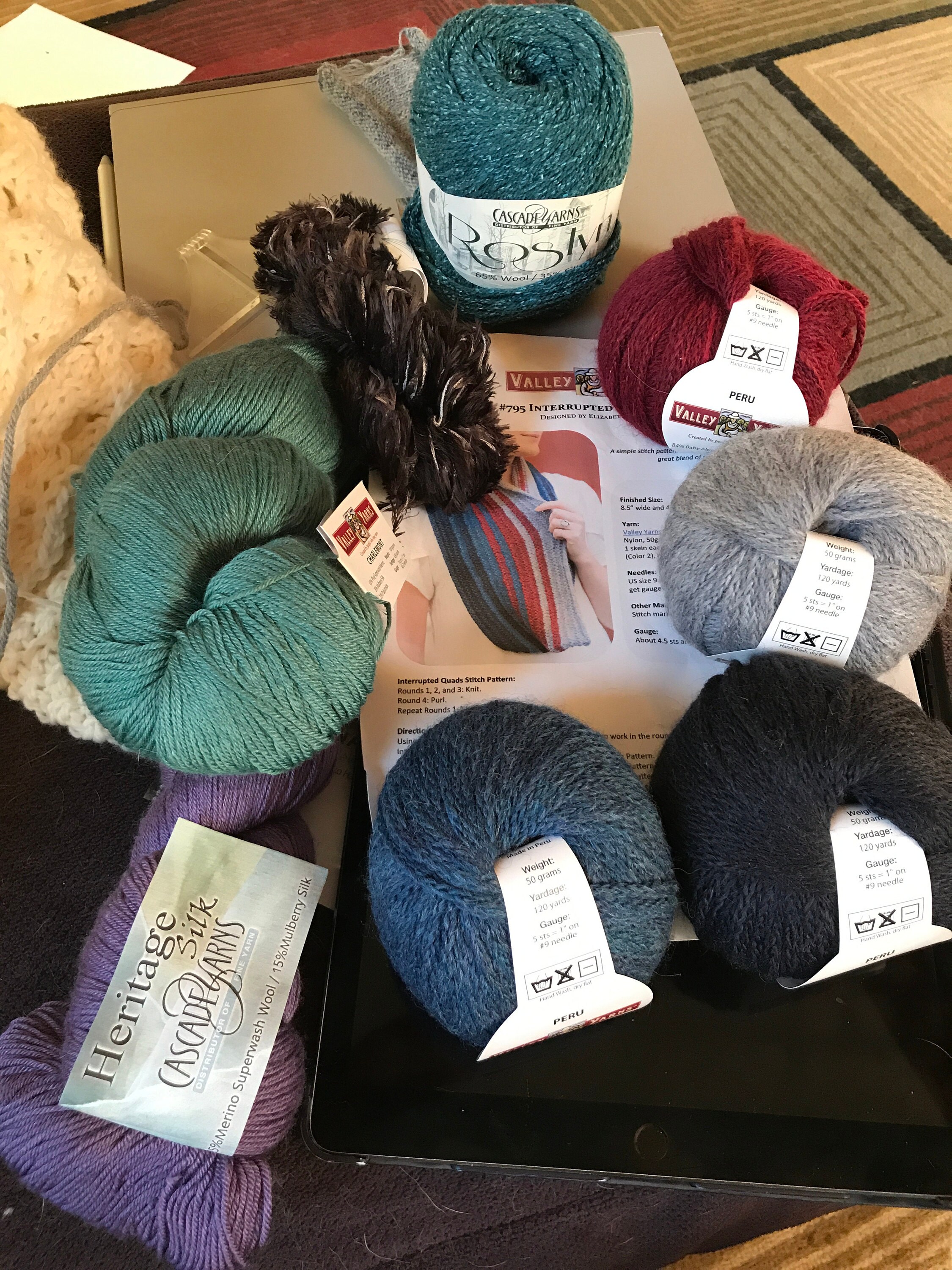 In my defense, all of my recent purchases have been carefully acquired with specific projects in mind. Over the last couple of years, I have done a lot of "souvenir" purchases – a random skein or two to memorialize a trip or event – for which I had no plan for when I bought them. But my EYF purchases (almost) all have designated projects (two sweaters, three shawls, a cowl, a mystery project that will be revealed to me on May 1 when the accompanying pattern is released, a pair of socks)…of course, I just have to find the time to knit them up in between orders.   
Somehow, I will find the willpower to make myself knit a good chunk of these things up for myself before I buy myself any more yarn. I found the willpower to (food) diet consistently over the last 9+ months, so I can do this, too, right? After all, I need new things to fit my smaller self! (Let's just ignore the fact that despite my recent weight loss, I still wear the same size socks and that shawls and cowls are one-size-fits-all, shall we?) Or perhaps my recent excessive yarn purchasing is related to my food diet…it wouldn't be unreasonable to assume that I'm simply refocusing my bingeing tendencies from food to yarn.    
Instagram is testing my yarn diet resolve daily. I follow several indie dyers and yarn companies, who are always posting their latest fibery goodness for all the world to see. With Game of Thrones premiering the other night, I was inundated with photos of gorgeous GoT-inspired colorways. Lately, two dyers who I just ADORE -- @thebluebrickish and @nicole_hueloco -- have been posting pictures of their various bird-inspired colorways. I want them ALL...especially The Blue Brick's Wooly Mammoth Sparkle Turkey.  See?  Even the name is awesome!
Beyond the temptresses of Instagram, the next anticipated test of my resolve will come in just over a week, when International Local Yarn Store Day occurs. It will be tough not going out and supporting my various local yarn stores…but I can do it. I think. (Maybe I should just ask my husband to confiscate my car keys that day…?)   
Wish me luck!