So, it has been nearly a year since my first knitting blog post…and a couple of months since my last post. Yeah…sorry about that. It's not that I haven't thought about posting, it's just that November/December is my busiest time of year. In fact, during the last week of October I got so many orders that I had to post notices on all of my made-to-order listings that all new orders would be delivered after Christmas. Then in early December another wave of orders came in that now has me booked through March(!).  So, I felt guilty even taking a few minutes to write a post. With the new year approaching, it's time to get back on track. This blog helped me be more organized and productive than ever, so I'd like to keep it up.   
In addition to helping my organization and productivity, this blog kept me accountable. Okay, so maybe it's possible that my mother and my bestie, Christina, are the only ones who ever read it…but whatever. One of my early posts set out my knitting goals for 2018.  So, let's recap and see how it all turned out.   
My biggest goal for 2018 was to knit the Berroco Abayomi and wear it to the WEBS fall retreat. I cast on the project in February, and pledged to work on it for an hour every day. Yeah, that pledge lasted for…oh, about a week. Orders got in the way, and at one point I hadn't even touched it in about two months. BUT I GOT IT DONE. Barely, but I got it done just in time for the WEBS retreat in mid-September. The Berroco rep at the retreat noticed, and even took a photo of me and the other woman who had knit one up (she did hers at more of a cardigan length, which also looked stunning). I loved that project. It taught me not to fear lace. Blogging about the project prompted my knitting buddy, Cheryl, to introduce me to the KnitCompanion app (which turned out to be crucial in helping me follow the lace chart). It made me learn to do proper seaming techniques, rather than the whipstitch I inevitably fell back on in previous projects. I also learned that it's not ideal to start a major sweater project and then go on a diet. When I initially finished the project, I was down 27 pounds from when I started it. Now I'm down 55 pounds. That's great and all, but it does affect how well the garment fits. Just saying.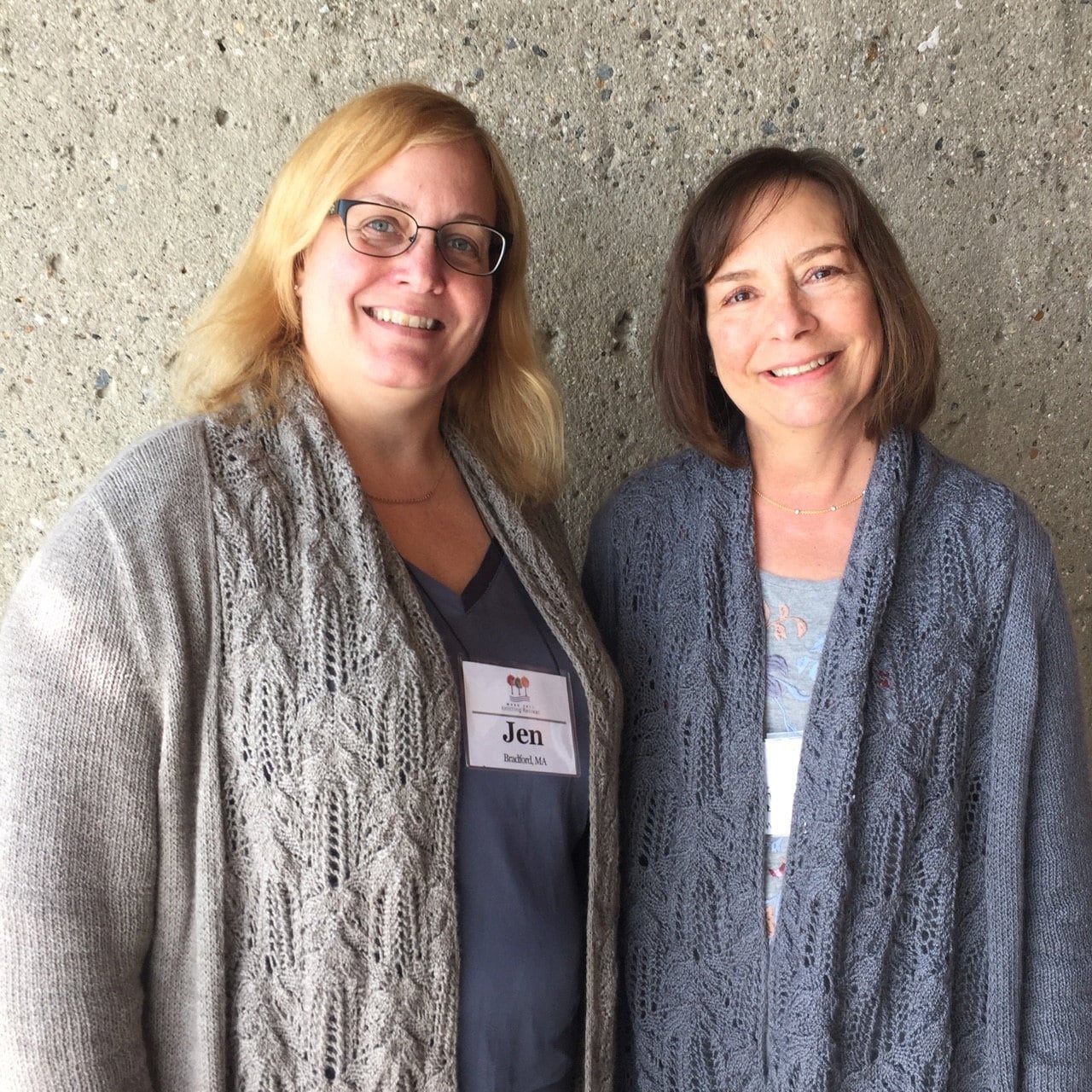 The next goal was to enter and win the Topsfield Fair knitting competition. I ended up entering a Bradford Throw, a design I had created a few months earlier for my friend, Becki. Well, I didn't win. To be honest, I'm not sure if one can really "win" – even after entering and seeing the results, I'm still not sure how the judging and awards work. But I did get a first place ribbon! So…that sort of counts? I guess "winning" would be either to get a Best in Show rosette or perhaps a Judges' Choice rosette. But a first place was a pretty damned good result, especially for the first time out. After seeing the other entries, two things became clear to me: the judges love blankets, and they love color. I'm already plotting and scheming for what I'll enter in 2019.   
I also resolved to publish three patterns on Ravelry in 2018. Moments ago, I just published my third pattern. (Ah, there's nothing like coming right down to the wire, is there?) It's another blanket – the Spencer Throw, the design I created for my son for Christmas this year.   
In my 2018 resolutions post, I also said I'd complete all of my WIPs. (Let us not speak of the ancient WIPs I discovered shortly after writing said post. Those don't count.) There were four: a Ryan Throw, a Time's a Thief scarf, a pair of 8 Stitches Per Inch Socks, and a Nycteris Shawl. I'm pleased to report that (as of 2 hours ago), those are all done. The scarf is soaking right now, waiting to be blocked.   Loom knitting…that was another goal. My son gave me a set of looms for Christmas last year, after seeing his technical director knitting with them backstage. I taught myself to use them, primarily so I could teach my 6-year-old nephew to knit with them. Tate LOVED knitting with them, and made himself a hat while here for an overnight visit.    
My last goal for 2018 had to do with knitting education. I wanted to attend at least two knitting retreats/conferences. That goal was realized, even if Stitches United didn't turn out the way I'd hoped (if you're curious, that saga is recounted here). The WEBS retreat was perfect…I learned a lot, made some new friends, and got to reconnect with the friends I made last year, Cheryl, Chris, and Clare. I'm really looking forward to seeing them all again in 2019!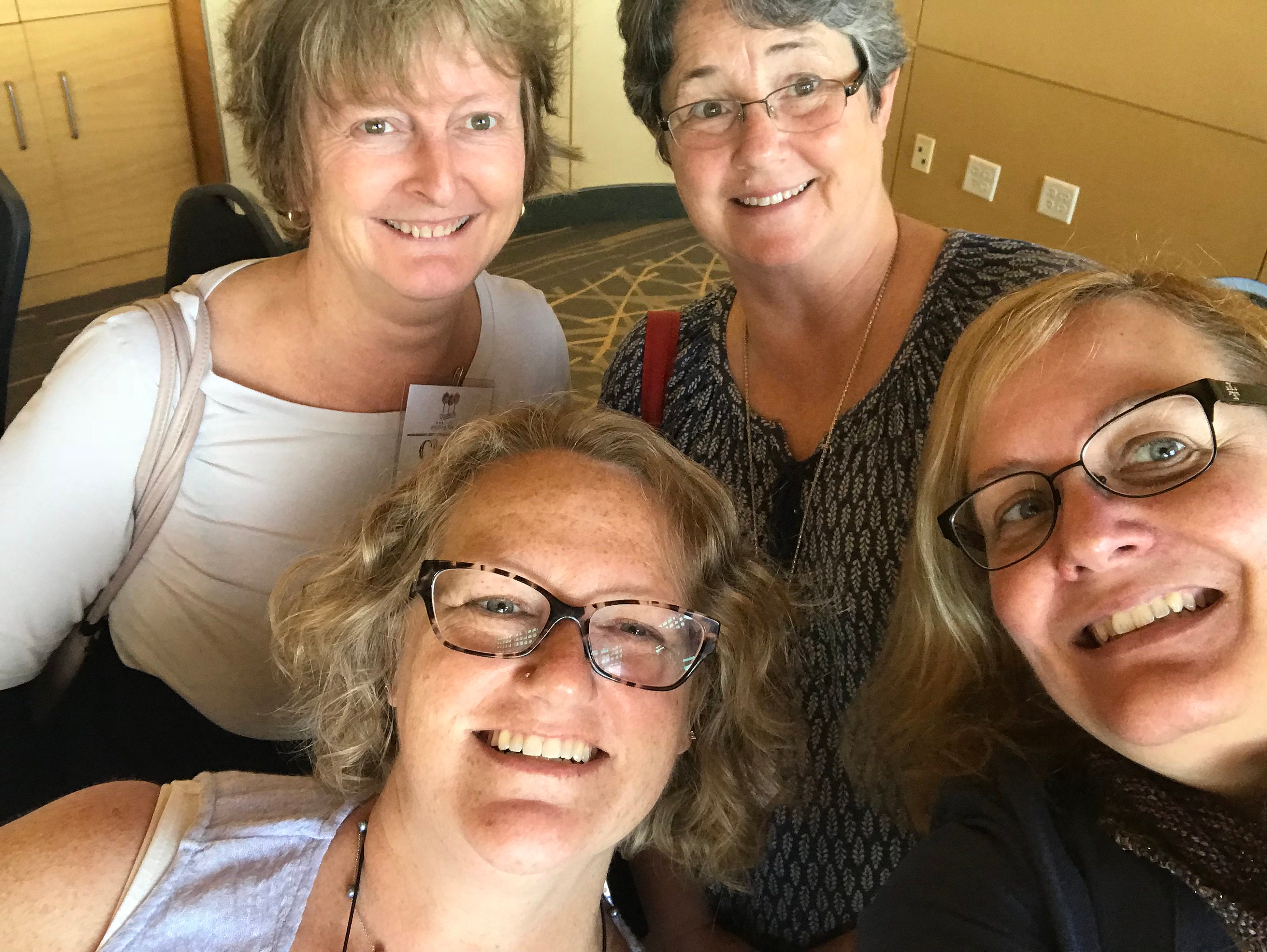 As a bonus this year, early on in the year I came across a Facebook ad for something called Knit Stars 3.0. It was described as video classes happening later in the year with 10 all-star knitting instructors. I took a chance and signed up back in February so as to get the early-bird rate. WOW, AM I GLAD I SIGNED UP!! The classes were amazing, and the camaraderie I have found in the Knit Stars Facebook group is wonderful. I have already signed up for 4.0 (11 long months away), and plan to buy the 1.0 and 2.0 classes the next time Loops makes them available.   
Before now, I had never stuck to a New Year's resolution. Ever. Apparently, the key all along was to make knitting-related resolutions. Now, THOSE I can get behind.   
Happy New Year, y'all!