Back in January, I set myself a few knitting goals for the year. I figured that by publishing the list, it would keep me accountable to completing them. For the most part, it has.  So…now that we're almost halfway through the year, where are we?   
My number one goal was to knit the Berroco Abayomi duster, and wear it to the WEBS Fall Retreat. Obviously, we're still a few months away from the retreat, but I did cast on for the project in February.  After a somewhat rocky start, I quickly became used to knitting the complicated (to me, anyway) lace chart. Did I live up to my promise to work on it every day? Nope. Sadly, weeks will sometimes go by without my even glancing at it. But I'm still making progress, nonetheless. The back (the largest piece) is finished, and the front left panel is nearly finished. Once I finish the left front panel and the right front panel, the rest of the project will fly – the sleeves are plain stockinette stitch, so I can whip those out pretty quickly. Come hell or high water, I'll be strutting into the retreat wearing my Abayomi! Goal status: 50% complete.   
The next goal makes me blush whenever I think about it…I proclaimed that I wanted to enter and win the Topsfield Fair knitting competition. Um…I've never entered a knitting competition in my life.  So, I think it's fair to say that the setting of this goal was, shall we say, a tad unrealistic. But enter it I will, and simply hope that I'm not utterly humiliated. As of now, I'm thinking of knitting up a Bradford Throw – the pattern I recently designed for my friend Becki – and entering that. I'm still toying with coming up with a completely new design to knit and enter, but we'll see. The Bradford pattern is really pretty, and totally competition-worthy, in my (not-so-humble-as-it-ought-to-be) opinion. I'll need to have this blanket knit up and ready to submit in early September. Goal status: 0% complete.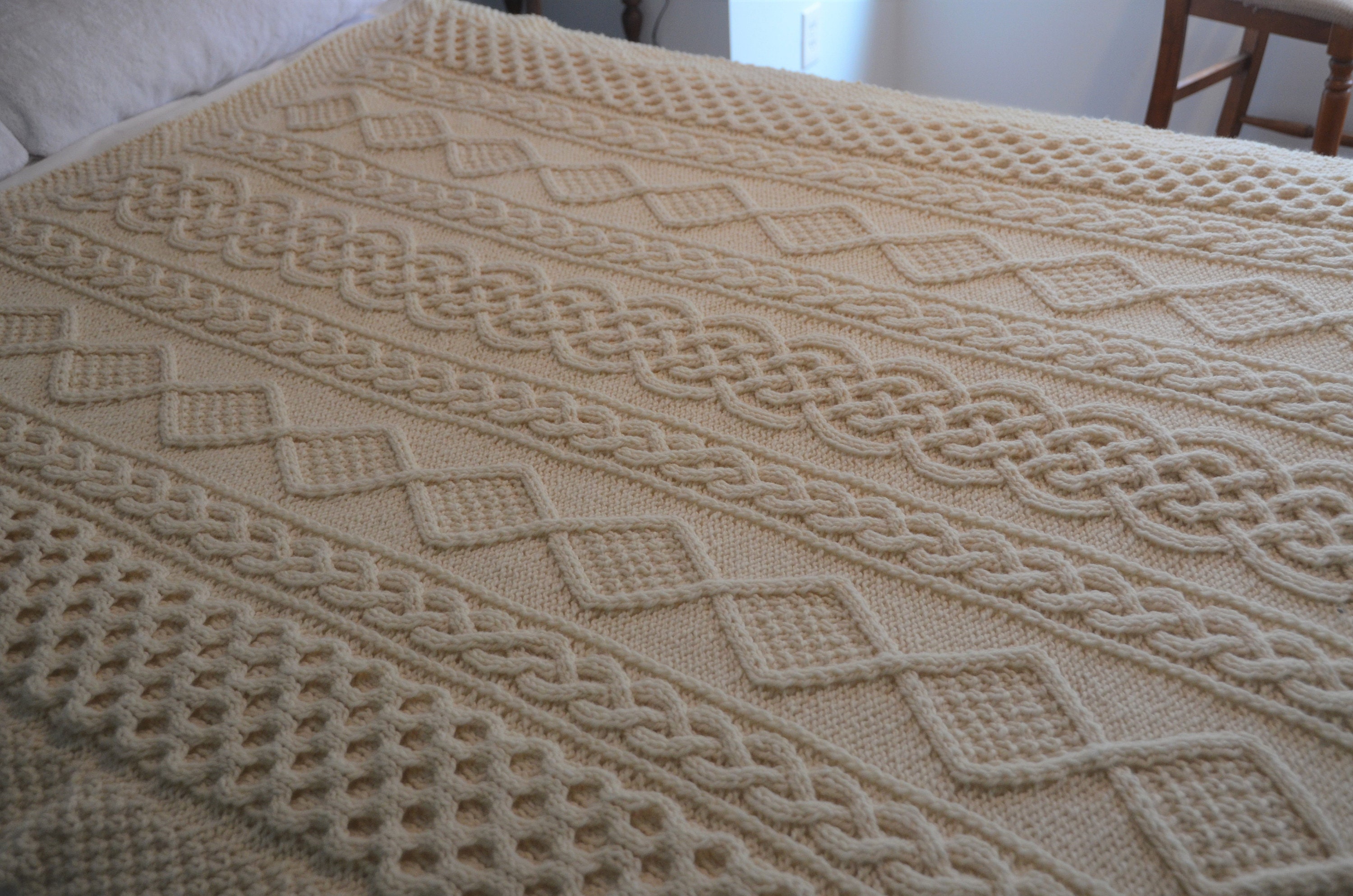 The Bradford Throw...does it seem like a winner to you?
I also said I would like to design and publish three new patterns this year. I've published one so far (a Snowflake Hat), and have the pattern for the Bradford Throw all typed up and ready to publish. (I'm not sure what's keeping me from pulling the trigger on publishing it. As countless Nike ads have implored me, I should Just Do It.) That leaves one more. Another blanket, perhaps? Or possibly a wrap…I'm working on a wrap design inspired by the final shot of Avengers: Infinity War…I could publish that, if I can get permission from Disney/Marvel to do so. Goal status: 33% complete, soon to be 66%.   
Then there are those pesky WIPs. I listed off what I thought were the only four WIPs I had lying around (then a few days later remembered a few ancient ones…but for purposes of this set of goals, I'm only holding myself to those I mentioned in my original post). Of those four WIPs, I have finished two: the Nycteris Shawl, and the 8 Stitches Per Inch Socks I made for my husband. That leaves the Ryan Throw (which I have actually made some real progress on…at this point, it requires maybe two days of dedicated knitting to get it done), and the Time's A Thief scarf that lives in my car. I got a few inches of the scarf done when I found myself with nothing to do during my few hours as a Drama Guild parent monitor over February school vacation. But it's still far from finished; I haven't even completed the first of the five skeins of yarn it requires. I have a feeling this one is going to come down to the wire…I'll probably find myself scrambling to finish it on December 31. Goal status: 50% complete.   
I'm happy to report the loom knitting goal is complete! Using the looms my son gave me for Christmas, I learned how to use them and taught my six-year-old nephew how to use them, too.  With the looms, he made himself a hat in about two hours, then promptly started another (larger) one. He hasn't finished the second hat, as shortly after he started it, the poor kid broke his arm. Once he's healed, I know he'll want to finish it. I have never seen a kid more proud of a creation than Tate was with his (too small) hat! Goal status: 100% complete.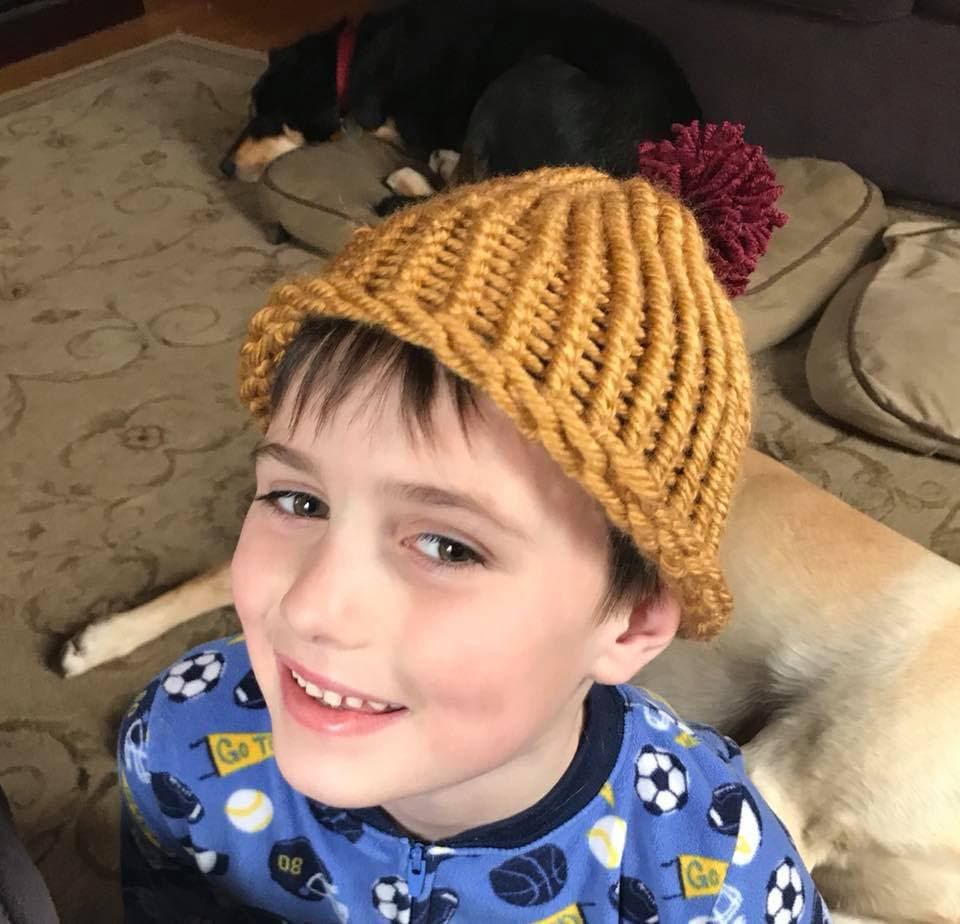 Look at how proud he is of his creation!  Knitting is for boys, too!
My final goal was education-related. I said I want to attend two conferences/retreats in 2018, so I can learn new techniques and meet more knitters. I attended Stitches United in Hartford, CT in March (which was nice, but not what I had hoped it would be), and I'm registered for the WEBS Fall Knitting Retreat in Amherst, MA in September. And thanks to a Facebook ad I stumbled across a couple of months ago, I'm also registered for an online retreat of sorts: Knit Stars 3.0. It's a series of video lessons that will be released weekly starting in November, and go on for something like 10 weeks. It sounded like fun, so I figured what the hell. I'll give it a shot. The Knit Stars Facebook community is fun and supportive, so I'm thrilled to be a part of it! Goal status: 50% complete.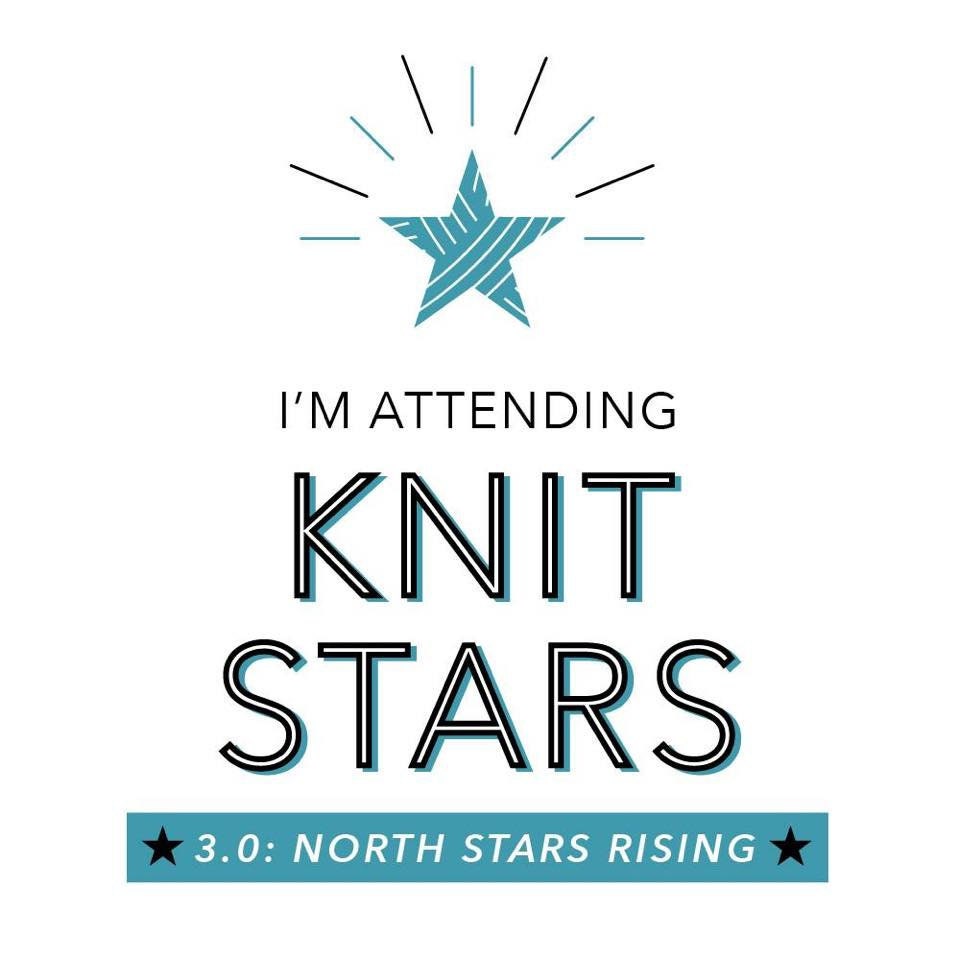 Alongside all of these knitting goals, I've been keeping up with orders. I've knit and completed over 40 items for customers so far this year. (Yeah, and I also started a pair of socks for myself which could easily end up being finished sometime in 2019...I'm sure finishing them will wind up as one of my 2019 goals.) I have yet to reach a time this year where I'm without an order to work on. Based upon past customer ordering patterns, if such a time occurs, it's likely to happen over the summer. Should that happen, I'm bound and determined to use that time to work on the Abayomi and those pesky WIPs!
The first half of the year has simply flown by...fingers are still crossed that I can achieve all of my goals by the end of this year!