Last week, I drove down to Connecticut to attend Stitches United, a huge conference for needle arts enthusiasts of all kinds. There would be classes with amazing teachers. Vendors from around the country would be there with yarns, notions, and tools. Thousands of people would be in attendance. I couldn't sign up fast enough.   
For the last few months, I kept going back to the event's webpage, reading up on what each of my classes would cover. I may or may not have had fantasies about becoming best friends with Franklin Habit, since I was registered for three of his classes, plus his Thursday evening lecture.  (Shut up. A geeky knitting girl can dream.) The other half of my schedule would be both fun and challenging – a class on altering patterns to fit something other than the "average" body, a photography class, and a class in Fox Paw knitting technique.   
With the fourth Nor'Easter of the month projected to hit the night before the conference started, I drove down to Hartford early in the day on Wednesday, so as not to get snowed in before my first class at 9am Thursday. Despite my dogs' refusal to come in the house so I could get on the road on schedule, I still managed to check into my hotel before the first snowflakes fell. I settled into my hotel room, pulled out my Abayomi, and got to knitting.   
Then my phone dinged, to alert me to new e-mail.    
Franklin wasn't coming.    
His flight had been cancelled due to the impending storm. The airline couldn't get him to Connecticut before his final class on Saturday. The event organizers were sorry, and would refund my money, unless I wanted to switch to another class or classes.   
I didn't want other classes. I wanted to cry. I wanted to go home.    
Going home wasn't really an option, though, unless I was willing to lose all the money I'd paid for my other three classes, plus at least half of my hotel charges. That certainly didn't appeal to me. Making the best of it, I swapped out the Saturday morning class on steeks and zippers, for a class on edging techniques. There weren't any other knitting classes other than absolute beginner-level classes to switch into on Thursday, which meant I ended up with a whole day to myself. Alone. With no distractions. Hmmm…there may be an upside here. Plus, I got my money back for the Thursday classes…which one COULD argue correspondingly increased my yarn budget in the marketplace…hmm. This might not be the worst thing ever.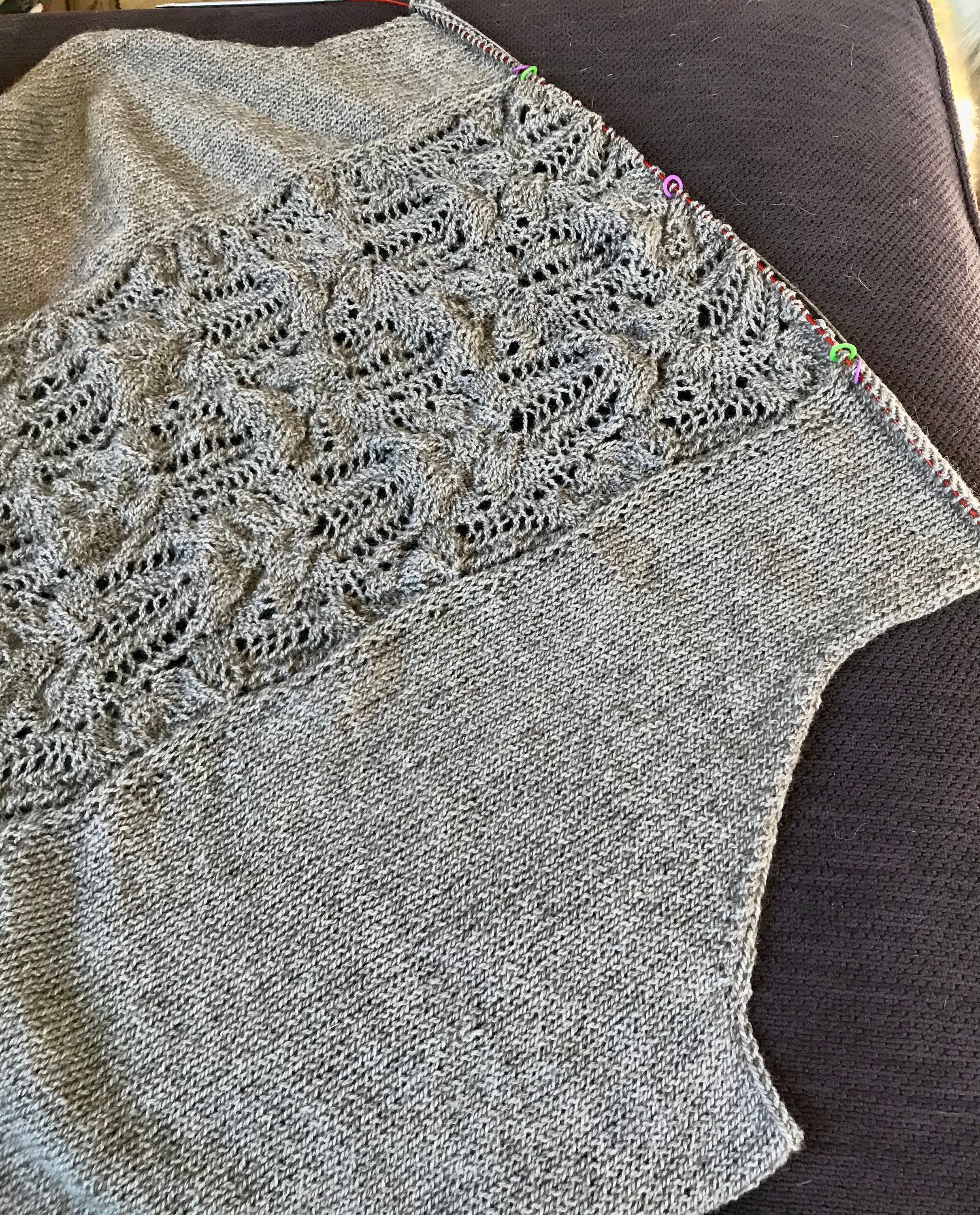 (Thanks to all the extra time in my hotel room, I got partway through the armhole shaping on my Abayomi...YAY!)
Overall, though, the conference didn't live up to my expectations. Probably because – despite my knowing this was more conference than retreat – I was expecting it to have the same social aspect as a knitting retreat. Unlike at the WEBS retreat last fall, I didn't make friends with other attendees. Not that I didn't try. But every time I struck up a conversation with a classmate, it turned out she was only there for that class, or that day. There wasn't really the opportunity to bond in the same way as one does at a retreat. During a conversation with another knitter who was also waiting in line for the marketplace to open, I learned about the Madrona Winter Retreat…and after a quick glance online, have noted that as a possible future trip.    
Despite the setbacks, I did come away from Stitches United with some wonderful new knowledge, and deep respect for some of my teachers (Shannon, Jason, and Xandy – I'm looking at you!). Future posts will likely be dedicated to what I learned from them.  And I got some gorgeous yarns in the marketplace: a sumptuous cashmere/silk/cotton blend pre-strung with beads from Artisanal Yarns; yarns from A Hundred Ravens in various shades of blue that I (seriously) have been dreaming about every night since I got it; and a couple of skeins of Ancient Arts blueface Leicester yarn where part of the proceeds go to rescuing cats.  (If the stall where I bought that had their line of yarns that donates to rescuing dogs had been available as well, I'd have bought some of that on principle, too!)
So, instead of registering for another Stitches event, I'll start looking elsewhere. Right now, my sights are set on the 2019 Edinburgh Sheep and Wool Festival. Time with my Scottish cousins AND yarn? Sign. Me. Up.