In my last post, I mentioned I was taking this week to catch up on a monumental list of unpleasant tasks, among them cleaning and assembling tax documents. On Monday, I alternated cleaning the pig sty my house has become with finally finishing the Nycteris Shawl. Tuesday found me going through receipts, categorizing them, and totaling them up for our accountant. I shipped off two orders. I dealt with shop administrative tasks. And with temperatures in the 50's, I went for a three-mile walk with my best friend. I bleached all of my kitchen counters, and cleaned the microwave. I washed the kitchen floor AGAIN, because every time my dogs came inside, they tracked giant muddy pawprints all over the place.   
I tell you all of this not because I want praise for doing my chores (although anyone who wants to throw me a parade for my domestic awesomeness is more than welcome to do so), but because I decided after being so virtuous, I needed – nay, DESERVED – a reward.   
So I sat down, and cast on for the Abayomi.   
As regular readers are all-too-aware, I have been dying to start this project. It has been on my mind for months. I've practically been salivating every time I look at the yarn. Hell, I even took three skeins with me to Scotland, on the off chance I could start the project while crossing the Atlantic.   
With my new KnitCompanion app, I set the progress bar to the first row of the lace chart. I had my stitch markers waiting to be deployed. Leslie Knope and the rest of the Parks and Recreation gang were keeping me company on my TV screen. I was ready. 
Day One:   
You know when is the best time to start a complicated project? I'll give you a hint: it's not when you are already exhausted from a day of mind-numbing chores plus your first major exercise session of the year. Someone please remind me of that next time around.   
It took me a couple of tries to get the first row of the panel knit properly. That didn't worry me – this often happens to me with set up rows. Once I have the set up row in place, the project usually flies.    
I wasn't accounting for the fact that I haven't knit from a chart for anything other than intarsia in decades. DECADES. And intarsia is easy, because you see the picture forming as you go. And, come to think of it, I don't think I've ever knit lace using a chart before. Hell, I've never really done that much lace knitting, period.   
After the first row, I decided I needed to throw in a couple more stitch markers than the pattern called for…just so I could tell I was off track sooner than at the end of each 64-stitch lace section. Well, that did help tell me I was off track. I found myself frogging part of each row for the first six rows…which is when I decided to call it a night. Those six rows had taken me two hours. TWO HOURS. At this rate, it'll take me until the end of the decade to finish it.   
Day Two:   
Today, my chores had me out of the house until about 2:30. When I got home, well…I'll admit it: I was reluctant to dive back into the Abayomi. Had I bitten off more than I could chew? Was this piece destined to remain less than an inch long? I procrastinated for about an hour with various shop tasks, responding to customer emails, that sort of thing. Finally, I mentally smacked myself upside the head and picked up the project and started knitting. As I approached the stitch marker signifying the middle of the chart where the lace section begins, I tensed up, sure I was going to have to frog back and do it again. But, no! It was perfect. Same thing when I hit the final stitch marker for the lace section. And for the next row, I was also on target. I breathed a sigh of relief. Maybe I was just to tired to see straight last night.  Onward!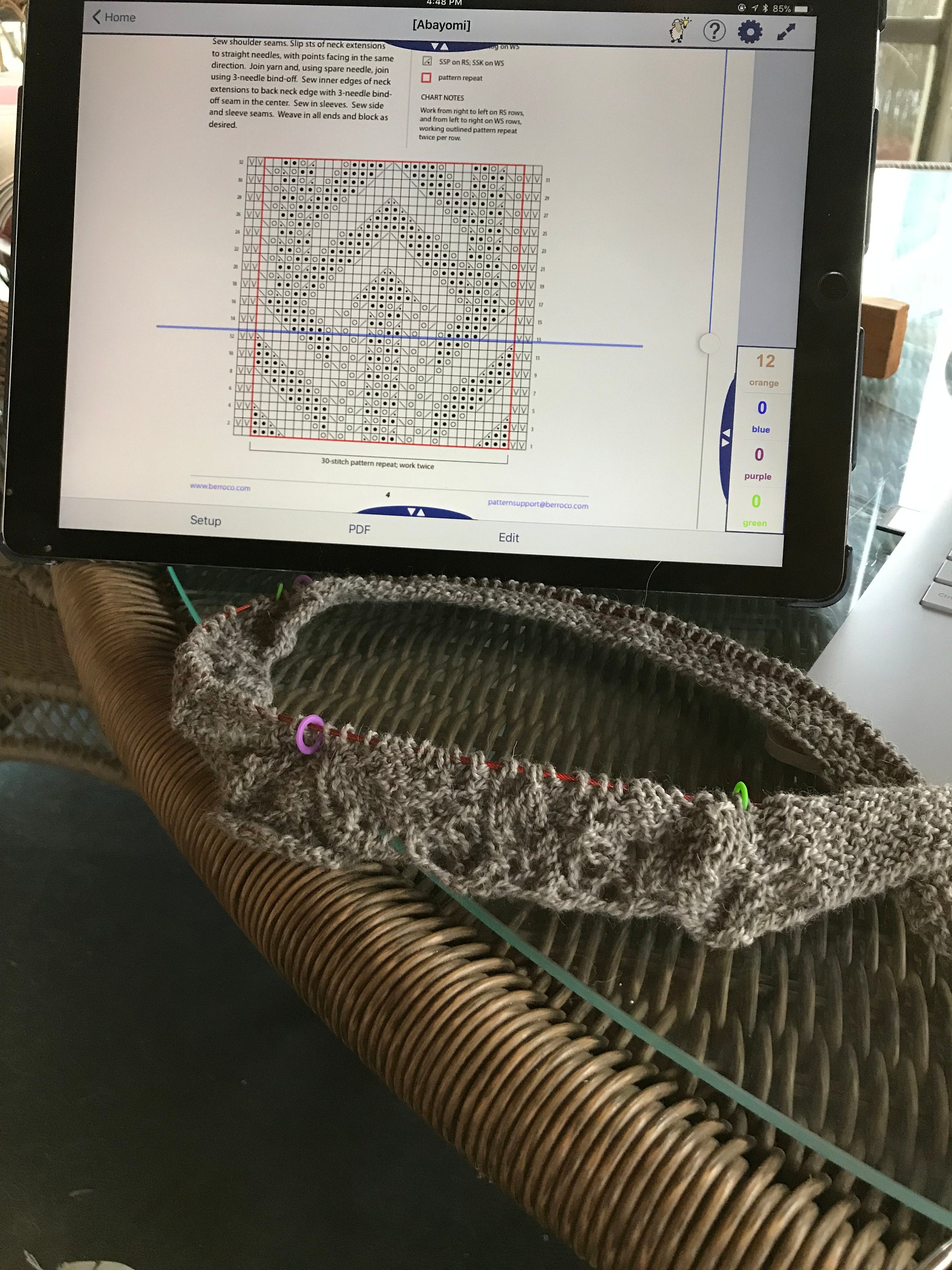 Day Three:   
Well, cleaning or other tasks didn't seem to happen today. I did, however, finish the first 32 rows of the 32 row repeat of the lace chart. I did encounter a couple of times where I had to frog back, but never more than 30 stitches. I'm starting to get a feel for the pattern, and can sense when I'm off track. (I can't tell by looking at it yet to know exactly what I have to do to get back on track, though. Maybe that will come with time.  Or not.)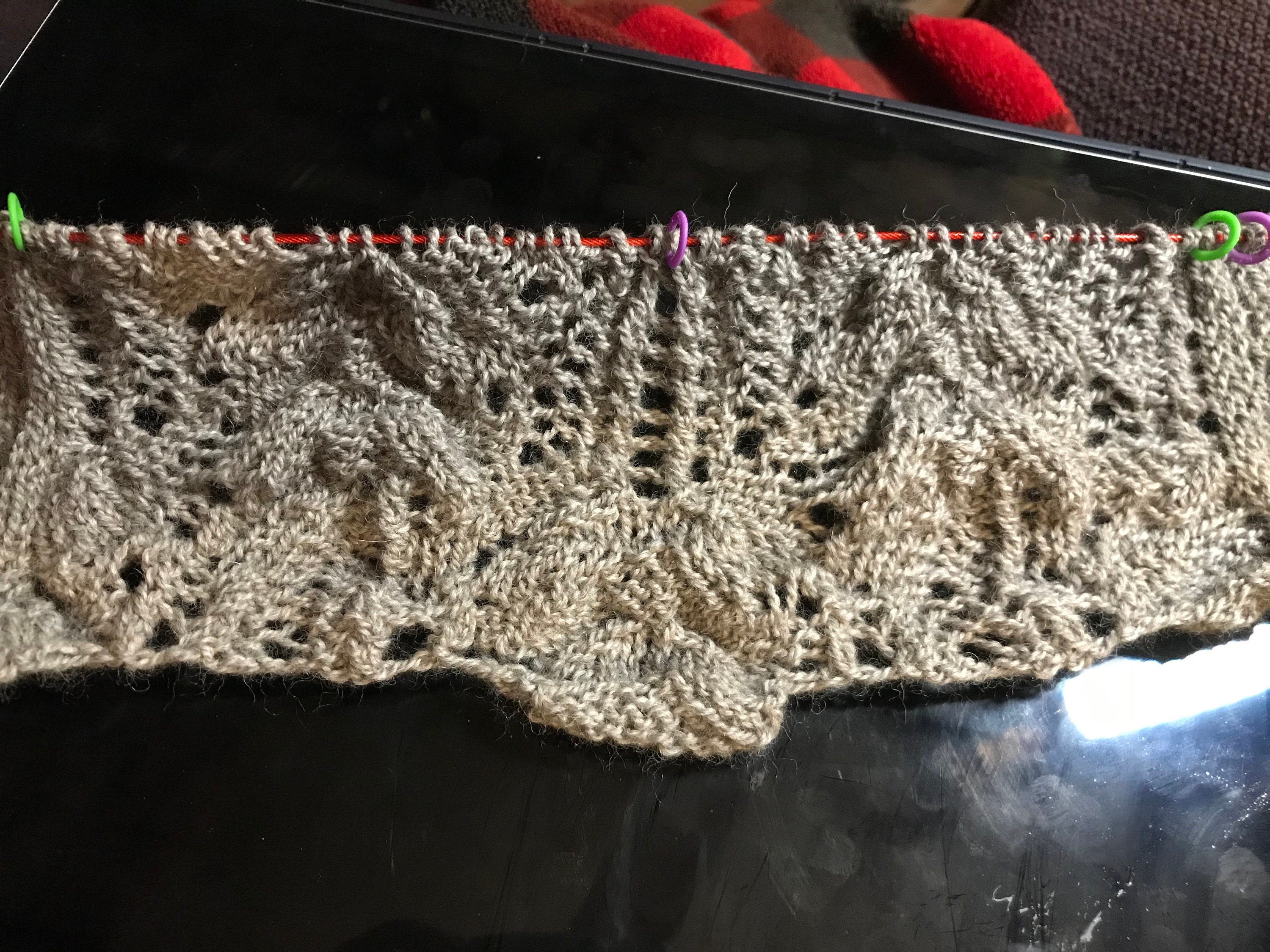 Day Four:   
Today I cleaned our bedroom. Following the mantra of "Worst First" I suppose I should have tackled that task sooner, but whatever. It's done now. I rewarded myself with spending the rest of the day working on the Abayomi, and I started and completed the second 32 rows of the chart.  I timed myself, and determined that I can do about 8 rows every hour (assuming I don't stop to text my BFF, check Facebook, or engage in any of my other favorite distractions).  Memorization of the key is not yet 100%, but I'm close – and that makes this WAY easier to knit. I'm really feeling happy with the project now!   
Day Five:   
The non-knitting tasks on my to-do list are dwindling. I packed up a bunch of the yarn cluttering my living room/knitting studio floor and stored them in the basement, with the goal of making my workspace a little less messy. There were so many skeins of yarn I just wanted to play with, rather than put in storage, though!  I also wound ten skeins of Ecological Wool for my next three orders.  Once all that was done, I sat down to knit another full chart (32 rows) on my Abayomi. After I messed up a couple of times early on because I found my eyes jumping up and down between rows on the chart, I decided to take a break and watch a YouTube video to figure out how to make the KnitCompanion app highlight the row of the chart I'm working on, rather than just have a line above it. DEFINITELY worth the 45 minute effort!    
I'm bummed out that I will have to limit my knitting time of this project going forward to focus on orders, because I really am loving it. From here on out, while I have orders, I'm going to give myself one hour a day to devote to this project six days a week, and a half day one day per weekend.