If you have ever knit something from a written pattern, I'm sure you've seen somewhere close to the beginning of the pattern a description of the pattern's gauge. If you're anything like me, you've ignored it. More than once, in fact. And unless you're extremely lucky, ignoring the gauge has come back to bite you in the ass at one time or another.   
I get it. When you're all excited to start knitting a project, who wants to take the time to knit a small (usually 4" x 4") swatch, wash it, and lay it out flat to dry, THEN measure it and find out if it's measuring out accurately? And after all that, repeat the process until you find the appropriate sized needles to get you the correct gauge? Certainly not me. I started knitting when I was 9, and only knit my first gauge swatch within the last year. And I'm in my 40's. Please…who needs to waste their time with gauge swatches? Well…as it turns out, we all do, if we're looking for exact measurements. However, if you don't, I'm the LAST person to cast judgment. Gauge swatching isn't fun. It's like eating your brussels sprouts (which I freely admit I don't do, either). But swatching pays off, especially if you don't knit at the same tension as the pattern's author.   
When I was younger, I usually figured if I didn't swatch the only thing I was risking was that the item might come out a bit big. That didn't bother me; I like loose clothing. I grew up in the 80's, the time of oversized sweaters. The 90's brought grunge and more oversized tops. If my sweaters came out too big, I didn't care.   
In the mid-to-late 90's, I was finally through school and had started practicing law. I started knitting again as a way to relieve stress. There was a great little yarn store near my apartment, called Putting on the Knitz. It's still there in West Newton, MA, and still run by the same amazing couple, Don and Janet. Those two taught me how to knit better in all sorts of ways…but even they couldn't make me swatch. I knew better. Swatching was for lesser mortals than I. (You see where this is going, right?)   
At that time, Don and Janet had a ton of pattern booklets featuring Nordic sweaters. Everyone had come back from the Lillehammer Olympics infatuated with all things Nordic. I found a pattern for a fun stranded cardigan which pictured a Viking ship. I bought all the yarn, and cast on right away. That project was a blast. Don taught me how to knit Continental, so I could keep one strand of a color in my left hand, the other in my right, and never tangle the two colors. I felt like the greatest knitter in the world when I mastered this technique. The body of the cardigan was knit as a tube, and then was steeked to make it into a cardigan. Since the idea of cutting open the knitted fabric freaked me out, Don and Janet kindly promised to let me come into the shop and do it there with them. When I proudly brought in my finished tube, Janet took one look at it and said, "This is too small for you. Didn't you test for gauge before you started?" Um…no…I knit with the yarn called for in the pattern, using the needle size called for in the pattern. Wasn't that enough? Apparently not.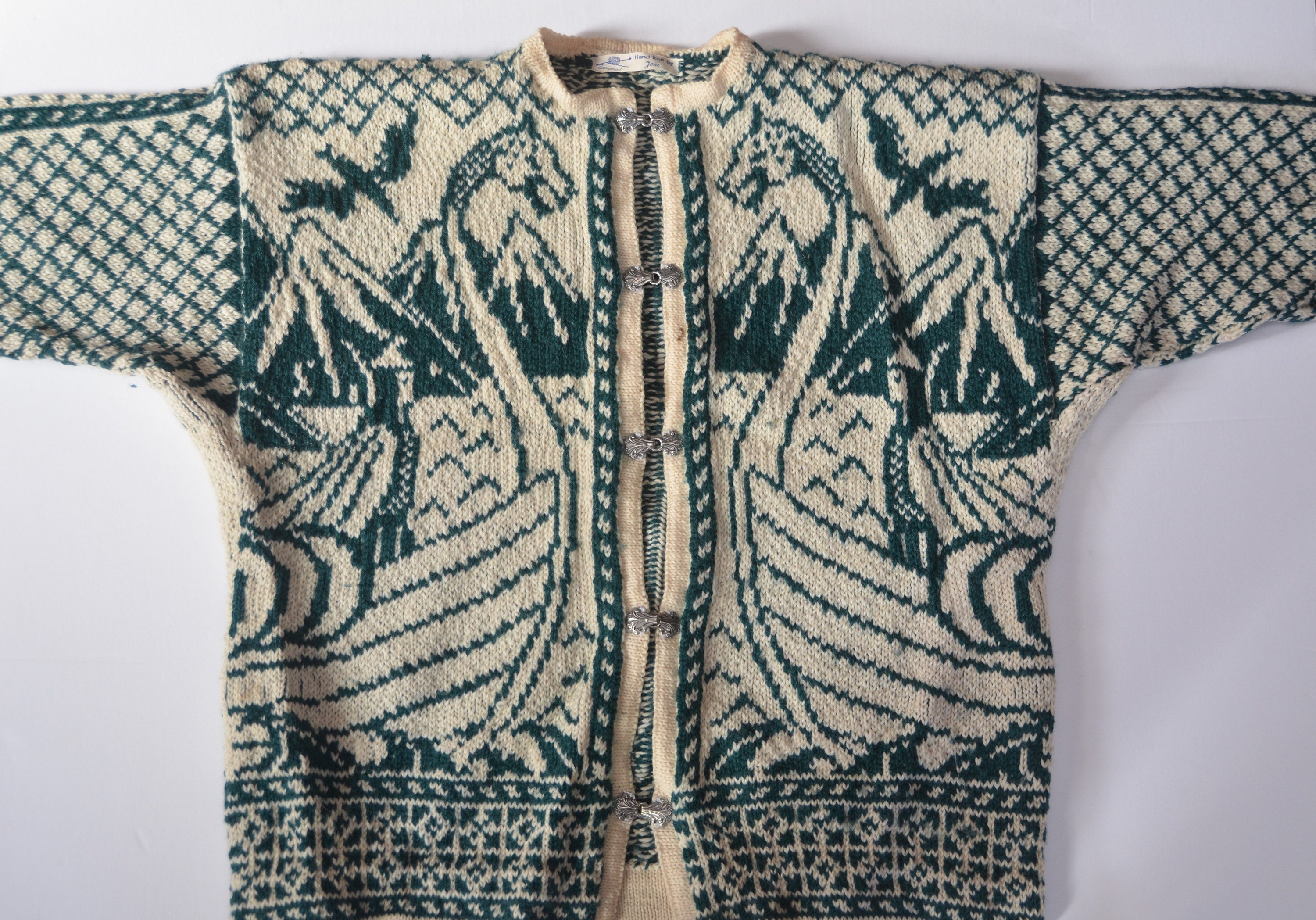 I learned a valuable lessonfrom that project: once you've been forced to rip out weeks of knitting and do it over again, you're never afraid to rip out thereafter. Did this experience teach me to swatch, though? No. Because I'm stubborn. (My dad likes to say trying to make me do something I don't want to do is like trying to push a rope. Perhaps so. But I get my stubbornness from him, so he ought to know.) I re-knit the body of the sweater with the size of needles Janet recommended to get it to my size, and it came out perfectly. No need to change my ways: this incident was merely an aberration.   
Flash forward about 17 years, and I'm teaching my friend Becki to knit. She wanted to make the Purl Soho Sweatshirt Sweater. She and I went out and bought some worsted weight yarn to knit with – I figured I'd knit one as well, using the same inexpensive yarn she'd chosen, that way when she had questions that specifically related to this pattern or yarn, I'd be able to answer them more easily. I got right to work, so I could always be ahead of where she was. (Three years later, I'm still ahead of her…she gave up after knitting about 3" of one sleeve.) By this stage, I had learned that I tend to knit loose, so my projects always came out a bit bigger than they should (with the notable exception of the Viking sweater). But also at this stage, I'm a bit bigger than I should be, so this never mattered. Until this sweater. The finished garment came out to be something in the neighborhood of a men's size 4XL. No joke.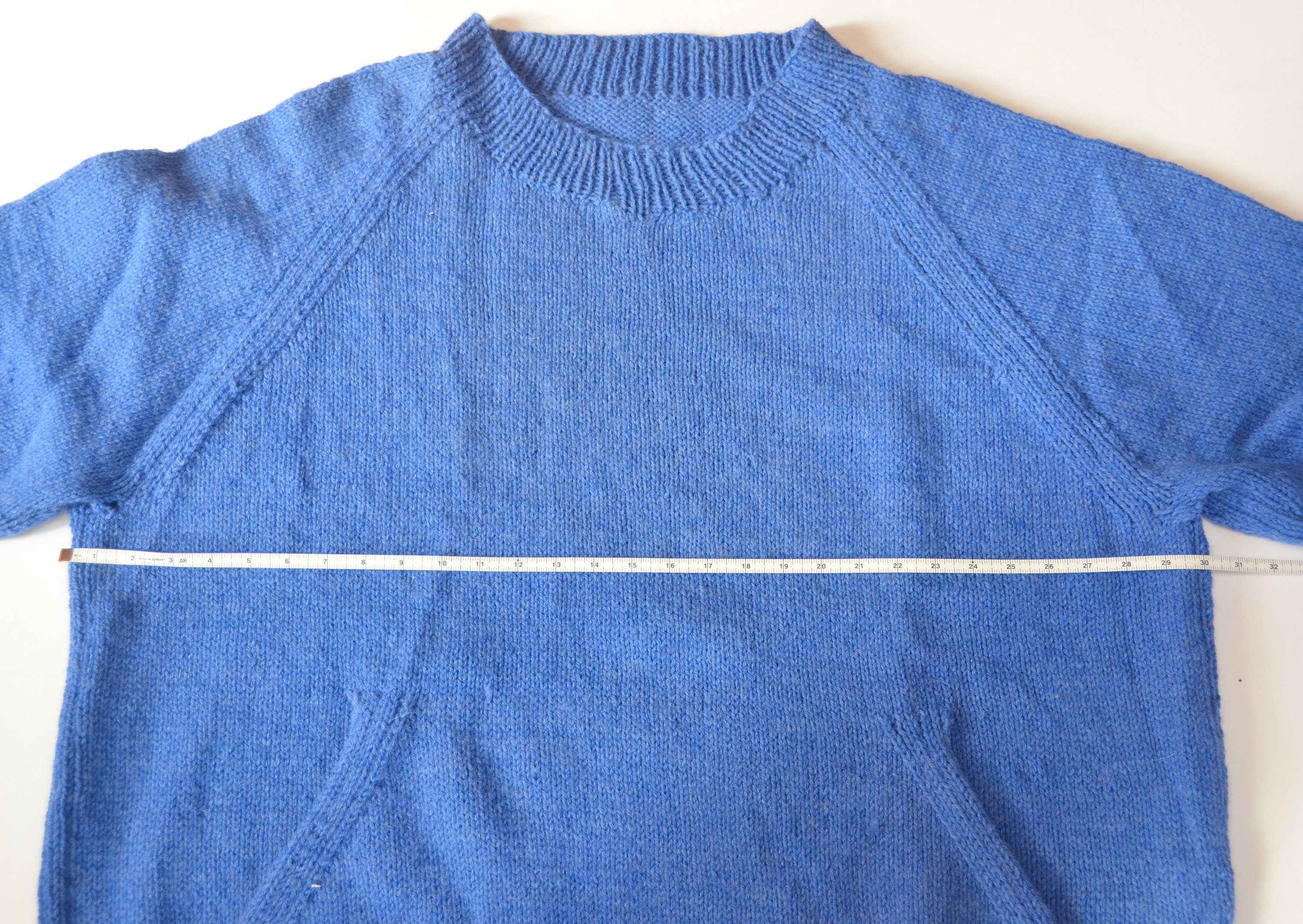 After this project, I finally decided that I ought to regularly start checking gauge…not necessarily by swatching, but by measuring shortly into a project to see if I'm on the mark. Because swatching is for lesser mortals, remember? It also didn't hurt that by this time the vast majority of the items I knit were blankets of my own design (and since I designed them, I could simply proclaim that the size they were was what they ought to be). Pretty much everything else I knit for customers was by The Velvet Acorn – and every single pattern I have knit of hers so far comes out at exactly the correct size. Heidi May and I must knit at the exact same tension. Bonus for me!   
Last year, I started publishing my own patterns. Suddenly, I had to knit a gauge swatch, if for no other reason than so I could list it in the pattern for other people to ignore. And I learned it wasn't so bad. I wasn't going so far as to wash/block the swatch…I mean, come on. Who does that? (Yeah, I know…pretty much every expert knitter. Shut up.)   
Which brings me to my spotlight project of 2018: the Abayomi. I've been staring at the cover page of the pattern for weeks, wherein lies the gauge information. The annoying voice of reason in my head started whispering, "You really ought to knit a gauge swatch." After the 5,000th time of hearing said voice, I decided to knit a swatch. The yarn I ordered hadn't yet arrived, so I pulled out the sample of Quechua I had on hand and dutifully cast on the stated 24 stitches, and knit for the required 32 rows on the size 6 needles called for in the pattern. Guess what? It came out half an inch bigger than it should. Which in the end would make the duster about 7.5" larger around than it should be. Plus, that would mean I'd end up needing more yarn than I'd ordered to finish it if I knit it with the size 6 needles. No, thank you.    
Okay. Undaunted (and feeling smugly proud of myself for actually following the rules for once), I grab some size 4 needles and try again. Still too big…not by much, but enough. Still proud of myself, but quickly losing patience with this process, I called Merrimack Yarn to see if they had size 3 ChiaoGoos in stock. They didn't, but they had some sent over from their sister store for me. (More waiting.  My favorite.)  While I waited for the needles to come in, I actually washed the first two swatches and laid them out flat to dry, just to see if that affected the gauge. It didn't…at least at first.   
The size 3 needles arrived, and I set to making my third -- and hopefully final -- swatch. Not able to wait until it blocked, I measured it immediately, just to see if I was close.  WHAT THE HELL? It's the exact same size as the size 4 swatch was last night!!! Fuming, I grabbed my size 4 swatch and laid it next to my size 3 swatch. Taking out my measuring tape, I measure the size 4 swatch, and it's now EXACTLY 4" across. I guess the extra day of drying/relaxing made a difference somehow? (Yeah, all you expert knitters out there are probably either laughing or shaking your heads in a mixture of pity and exasperation. You're not wrong to do so.) All I can say is that this is not making me a bigger fan of swatching. I can feel my blood pressure rising. Don't get me wrong, I see the necessity. But seriously…there's a difference between 28 and 40 hours of drying time? Even though it was totally dry after 28 hours? Grrr.   
[Deep breath. Regroup. It's too early to give up. Get it together, woman…]   
It's settled. Size 4 needles it is.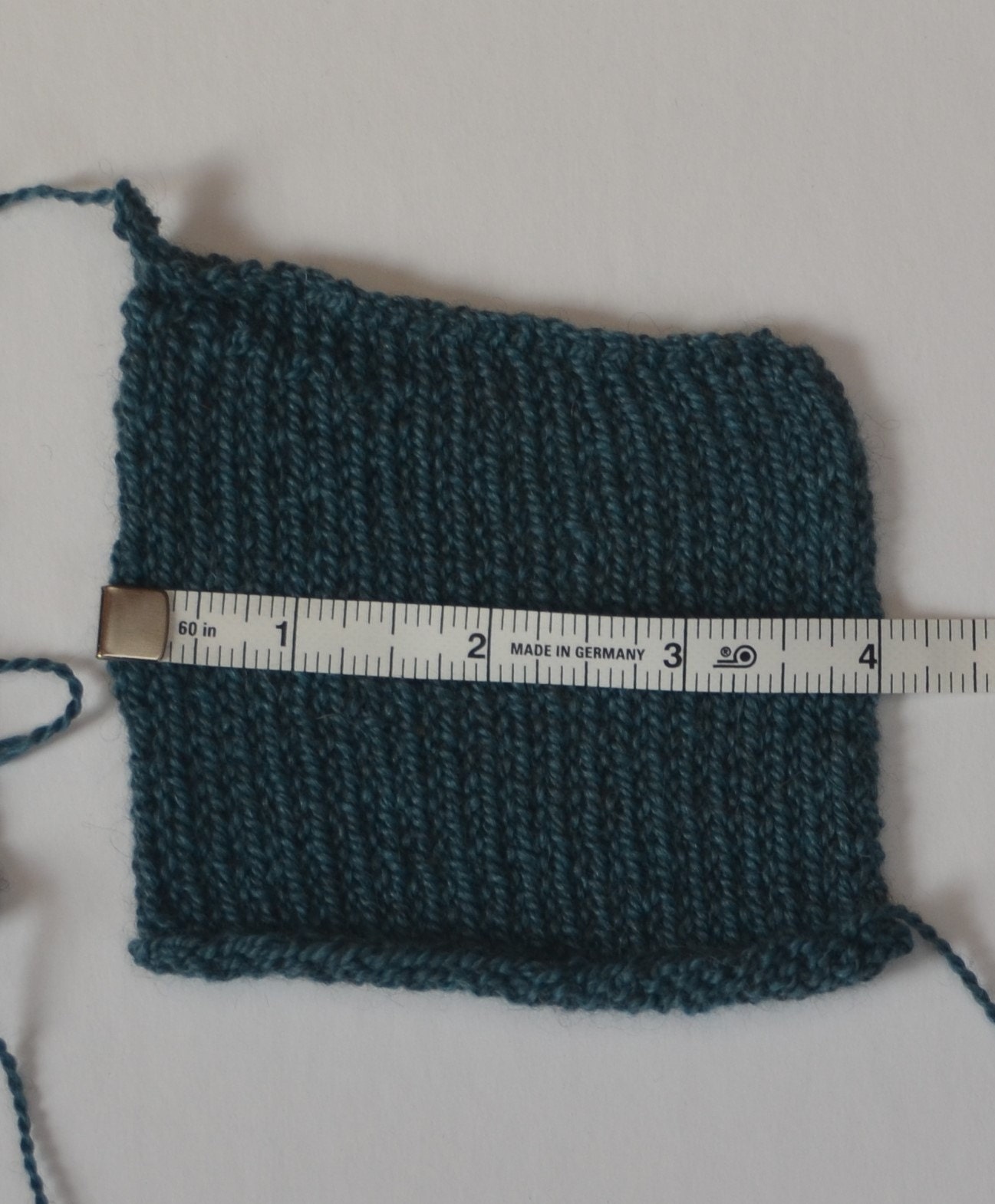 *************** 
Want to join the Knitting by Jen social media community? (All the cool kids are doing it…you know you want to!)    
Facebook: www.facebook.com/KnittingByJenOnEtsy 
Instagram: @knittingbyjen 
Ravelry: iferjen