While two of my recent posts have addressed my outstanding WIP problems, I didn't mean to give the impression that I never finish anything. Au contraire. Last year, I completed 101 items, and the year before, 110. Of course, when I'm knitting for a customer, I don't have the luxury of laying down a project and collapsing on my fainting couch and murmuring, "No…I just can't…" and then quietly forgetting about the project. People pay me money to finish their items, and to do so posthaste. Sometimes deadlines are a good thing; which is why I'm hoping that you'll all hold me accountable to finish the bleeping WIPs that haunt my dreams.  If I can complete that goal for 2018, maybe my 2019 goal can be to tackle my yarn stash.   
Another thing about most of my orders which helps me see them through to completion is that they are chunky knits, which don't take a lot of time from start to finish. Depending on the size, I can whip through an Azel Pullover in anywhere from 2.5 hours (2T) to 2.5 days (L/XL). Unicorn scarves are usually a 1-2 day project if I'm not distracted by various domestic duties. My Irish blankets are another story…a standard size takes a minimum of 5 days (if I'm putting in 10+-hour days), and an XL usually takes me at least 10 days of serious knitting time. Which is why I love the chunky knits…they're as close to instant gratification as they come. Hell, I can do one of my Snowflake Hats in 90 minutes. (And, yes…I have timed myself. I'm anal that way.)   
However, I do love me a fine-gauge, complex project from time to time. Especially one that's not socks involving altogether too many inches of ribbing. (Seriously…I need to finish my husband's socks and get them off my freaking conscience.) My penchant for finer projects has me counting down the days until the 18 skeins of sport weight yarn I ordered last week arrives, so I can cast on for the Abayomi duster.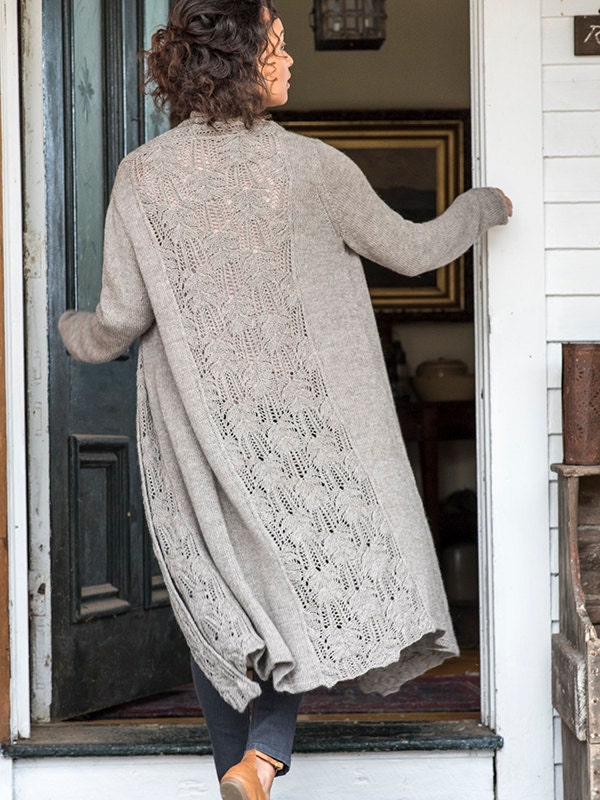 Gorgeous, right? As you can see, it involves some pretty lace panels, which will present a decent challenge for me. I don't do a lot of lace knitting – I'm definitely more of a cable kind of girl – which is partially why I'm so excited for this project: it'll take me out of my comfort zone. I've looked over the lace charts, they're totally something I can do. I'll just have to focus a little more when knitting than I'm accustomed to.   
This project will be anything but instant. The duster comes down to mid-calf, and is oversized to flatter even figures like mine. The 18 skeins it's supposed to take is nearly 3,000 yards of yarn. And of course, I'll be working on this at the same time as my orders…which means I'll likely not be able to devote large blocks of time to it, unless I find myself without any orders. Still, I plan to budget my personal time over the next couple of months very carefully so that I can complete this project in a reasonable amount of time. (Regular readers will remember that my goal is to have this finished by the time the WEBS 2018 Knitting Retreat comes around in the fall.) My fingers are crossed that the lack of instant gratification to which I have become accustomed doesn't relegate this masterpiece to the category of WIPs Who Won't Die.    
Wish me luck!   
** The photos used in this post are the property of Berroco Yarn, who graciously granted permission for me to share them with you here, because they ROCK.   
*************** 
Want to join the Knitting by Jen social media community? (All the cool kids are doing it…you know you want to!)   
Facebook: www.facebook.com/KnittingByJenOnEtsy 
Instagram: @knittingbyjen 
Ravelry: iferjen