I'm embarking on a journey…a three-thousand-yard journey. At the end I hope to be rewarded with a beautiful knitted knee-length duster coat, a garment that has been on my mind for the last several months.  Ever since I saw the sample on display at the WEBS retreat, the Abayomi duster has been constantly in my thoughts. One of the friends I made at the retreat was much quicker to commit to this journey than I (Hi, Cheryl!); she purchased the materials right then and there. I confess, it took me longer to decide to take this on. But I'm ready now. Hopefully Cheryl and anyone else out there who is knitting the Abayomi will chime in with their experiences, as well.   
A couple of things held me back before jumping into this project. First, I am very lucky to be swimming in orders. That's a good thing, but it doesn't leave me a lot of time for knitting things for myself. And this is a project that looks to be time-intensive. Second, it's a lace project. Sure, I've done a little lace knitting…but not much. Certainly not anything on this scale.   
Despite these challenges, the Abayomi wouldn't ever leave my brain. I toyed with asking for the kit for my birthday, but decided against it; after all, how would I find the time to knit it? Christmas came along, and under the tree I found…an Instant Pot. Now, I don't have anything against Instant Pots per se; I have several friends and family members who swear they are the greatest thing since sliced bread. But it just wasn't for me. Visions of it collecting dust on a shelf in my basement danced in my head. Back it went to Amazon, and once the money was refunded to our credit card, I decided it was time to give myself the ultimate Christmas do-it-yourself gift. I was getting the yarn for the Abayomi.   
Thus resolved, I spent days looking at the various colors of Berroco Quechua yarn on my iPad, trying to settle on a color. My first instinct was to knit it up in Palace, because it looked like a lovely wine red. But I decided I needed to see actual samples, because I couldn't shake the feeling that my iPad wasn't giving me accurate color information. Remembering the Berroco yarn samples I got in my swag bag at the fall retreat, I went hunting and hit pay dirt: I had a generous sample of Quechua in River, which is a beautiful slate blue. Having the yarn in front of me confirmed my suspicions, however. When I held it up to my iPad, there was a definite difference between what I was seeing on screen and what I had in my hands. (I'm not throwing shade at these website pictures – photos of colors can vary from device to device, and from website to website. It's a fact of life.) Then and there I knew I had to see each color in person before choosing the winner. Eventually, I tracked down a Quechua color card at a local yarn store (who, ironically, doesn't actually carry Quechua), and all it took was a few minutes with the color card to discover all I needed to know: that there was a reason the WEBS Abayomi kits only come in one color. Because that color is truly perfect for this project.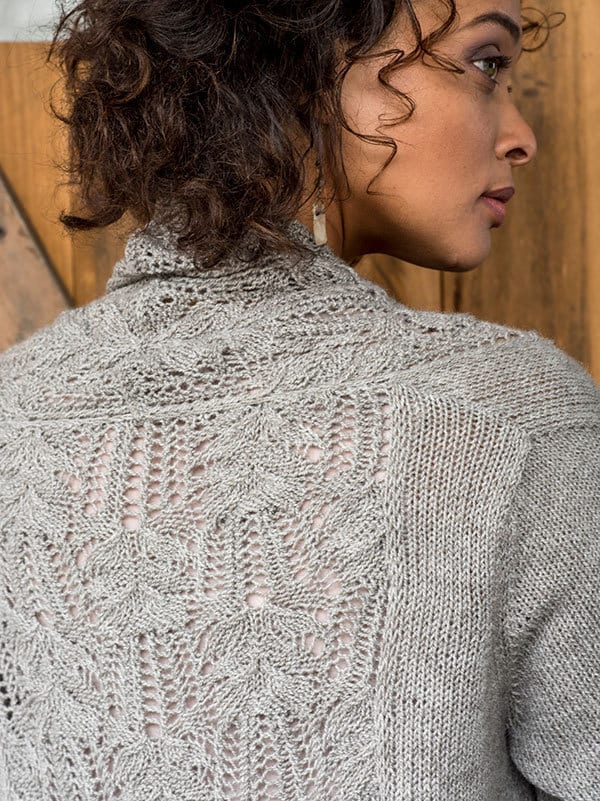 On Wednesday, 18 skeins of a delicious blend of extrafine merino wool, baby alpaca, and yak fiber arrived from WEBS. I wanted more than anything to cast on and start the duster immediately, but I'm determined to do this right. That means starting with gauge swatches, something I have always pooh-poohed (to my detriment…more on that next time). So, stay tuned…there is much more to come on this project!   
** Many thanks to Berroco, for letting me use their photo of the Abayomi.  They're the best!
*************** 
You can see more of what I'm working on at any given moment in the Knitting by Jen social media community. Stop by anytime, and say hi!   
Facebook: www.facebook.com/KnittingByJenOnEtsy 
Instagram: @knittingbyjen 
Ravelry: iferjen