Over the last couple of years, as my knitting business has boomed, I find myself trying to use every available moment to knit.  On an average day, I'm knitting at least 8-10 hours.  Whether I'm waiting for my son to come out of fencing practice or sitting in a doctor's waiting room, if I anticipate I'm going to have a few minutes to knit, I'll bring a project with me.
Occasionally, I'll take a couple of minutes and think through where I am in the project before packing it up, and determine what tools I'll need and pack them up along with the knitting.  More often, I'm frantically shoving my project in the closest project bag before rushing out the door.  More times than I would care to admit, I found myself not being able to work on my project because I forgot a cable needle, the pattern, or something else.  All I could do is look at my project and fume that I wasn't better prepared.
It's not like I don't have a tool bag that I keep next to me when I'm knitting at home.  But it's too big to take with me in any of my project bags.  And over the years, it has filled up with all sorts of extra stuff that I just don't need to take with me on the road.  Like 10 different kinds of stitch markers.  I needed a better solution.
One night on Facebook, an ad popped up that seemed to be the answer to my problem: it was for a collection of knitting tools/accessories that was free -- all I had to do was pay shipping.  Since shipping was $10, it didn't seem all that outrageous.  The little plastic divided case, the stitch markers and cable needles that came in the kit would easily cost me that if I went out to Michaels and bought them myself.  And this kit had a measuring tape and other tools as well.  Perfect, right?  Not so much.  The latch on the case broke the second time I opened it.  The stitch markers are the cheapest and cheesiest things I've ever seen.  And the measuring tape is just plain WRONG.  As in, each marked inch on the tape actually measures 1.25".  Well, if nothing else, I've gotten at least $10 worth of laughs about that measuring tape...that cracks me up every time I look at it.
Not long after that, I decided to assemble a toolkit myself.  I took the small zipper notions pouch that came with the needles case I bought on Etsy, and put a spare cable needle and a pair of scissors in it (those being the things I usually needed and didn't have).  Over time, as I found myself out and about and missing something, I added those missing items to the travel tool pouch (regular and removable stitch markers, a yarn needle, a measuring tape).  Problem solved, right?  Nope.  At least half the time, I'd find myself knitting somewhere only to discover the magic travel tools were in a different project bag than the one I'd grabbed in my haste to leave.
Seeing as I don't have a shortage of tools and accessories, I decided to go to Etsy and look for some other zipper pouches to put them in.  That way, no matter what bag I hastily snatched up as I ran out the door, I'd have what I needed.  As I searched, I discovered exactly what I was looking for in the Ocean Patch Creations Etsy shop.  I messaged the shop's owner to ask if I could get something custom -- preferably with knitting- or sheep-themed fabric.  The shop's owner was great, and sent me a photo of several fabrics to choose from.  A little over a week later, they arrived: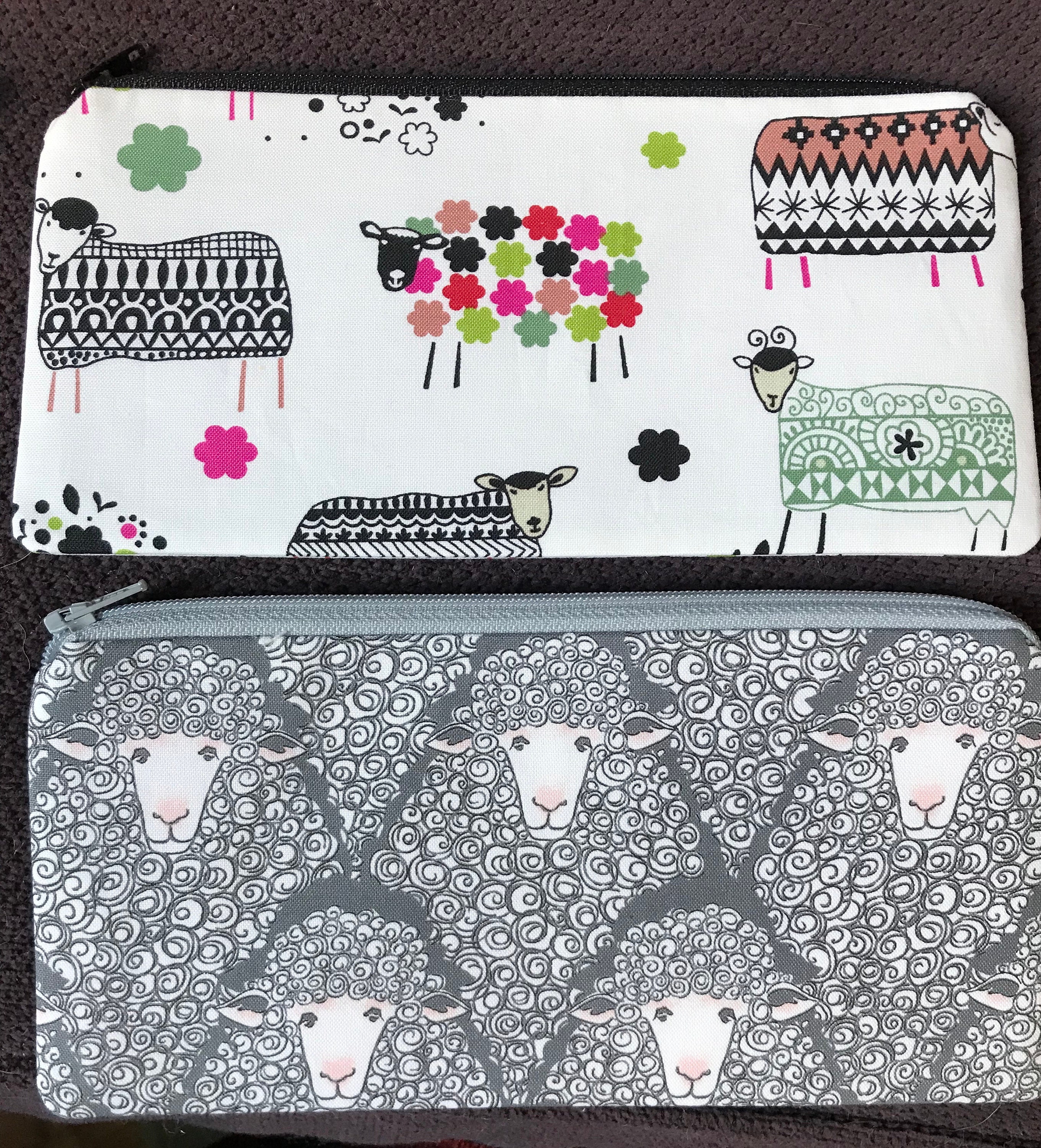 Cute, right?  The bottom one I call "Hypnotic Sheep" -- at first glance, I was all "Ugh, no." Within five seconds, I was mesmerized...I had to have it.  I don't know why.  I think the sheep brainwashed me.
So, what did I put in each bag?  Scissors, stitch markers (both regular and removable), a yarn needle to sew in ends, a measuring tape, a cable needle, a small crochet hook (my preferred method for picking up stitches), an emery board (I don't know about you, but it drives me nuts when I have a catch in my nail that gets caught in my yarn), and a row counter necklace.
Maybe...just maybe...I'll no longer find myself without the tool I need (and screaming in frustration) whenever I'm knitting on the go.
*****
Want to see more of what I'm working on?  Find me here:
Facebook: www.facebook.com/KnittingByJenOnEtsy 
Instagram: @knittingbyjen 
Ravelry: iferjen